Todd Debreceni, a professional makeup and special effects artist, uses 3D printing to help create creatures, masks, and other special effects that bring characters to life on stage and in films. He uses Simplify3D and 3D printing to significantly reduce the time and work required for his projects, sometimes even shaving days off of the time it takes to finish a build.
Todd has amassed over 40 years of experience in theatre and film, working with several of the top entertainment companies including 20th Century-Fox, Warner Bros, and Walt Disney Pictures. His work has been credited in several well known productions including Shrek the Musical, Die Hard II, and JAG. He is also the author of Special Makeup Effects for Stage and Screen which is referred to as "the bible" for artists in the makeup effects industry. Last year, he released the highly anticipated 3rd edition, which added a new section on 3D printing for special effects.
Advantages of 3D Printing for Special Effects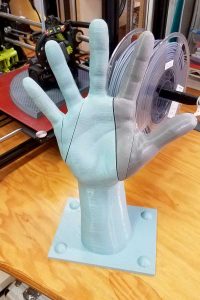 Like most industries, the ability to adapt to the latest technology and use it as an advantage ensures continued success. Todd realized that 3D printing could be a game changer in his industry and began investigating ways to use it in his field. He recalls, "I used to do visual effects animation and compositing for films such as Batman and Robin, Contact, and My Favorite Martian, but I'm really a tactile artist, and it's impossible… at least it was impossible… to actually touch and hold the digital pieces I was creating. Now I can model something in 3D and hold it in my hands."
Not only did 3D printing allow him to physically hold his projects, but it also helped him work more efficiently. Todd emphasizes, "Perhaps more than anything, what 3D printing has allowed me to overcome time management challenges. A few years ago I built collapsible hand cores for creating silicone and foam latex character gloves, such as the ones you would use for characters like Shrek or the Hulk. The process of creating the core the old-school way is complex and very time-consuming, taking at least a couple days. Now I can find an existing model of a hand, or scan one, and then cut the model apart and modify it in several hours. I set the model to print, and I am then free to do other tasks, which allows me to be much more productive."
The Simplify3D Difference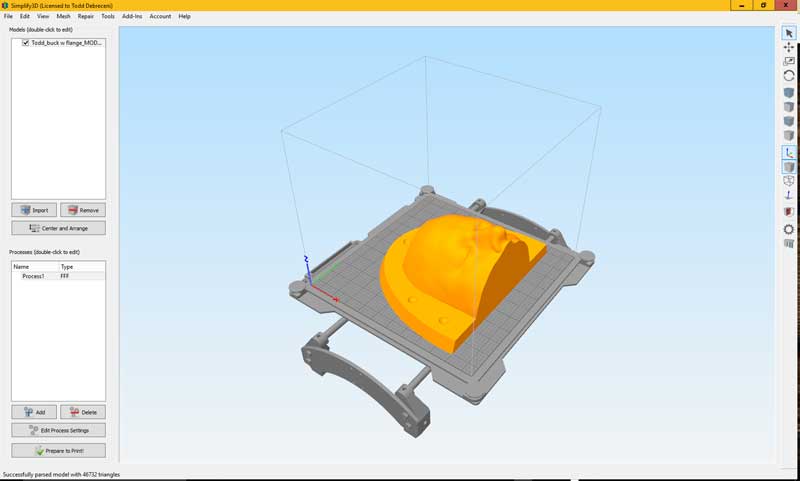 When he first began his 3D printing journey, Todd experienced print quality issues with his 3D printer's default software. Todd realized that to achieve the level of quality he desired, he would need the ability to fine-tune his 3D printer's settings. He purchased a copy of Simplify3D and immediately began experiencing better results. Todd explained that he used several Simplify3D features to improve his prints including: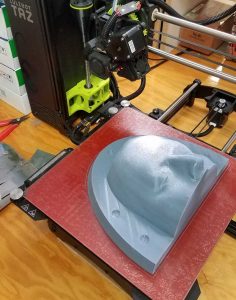 More Control –

 

"The ability to fine-tune the settings in Simplify3D is much more robust, it has really improved the performance of my 3D printer, and the choices I have in the 'Edit Process Settings' window are extensive."
Custom Supports –

 

"I really like the ability to tweak the supports, which gives me a much cleaner model when printing has been completed."
Easy Navigation –

 

"The interface is easy for me to navigate. I really love that when I change machines using the Configuration Assistant, the interface shows me that machine's build platform, not just a generic build area."
Future Special Effects Projects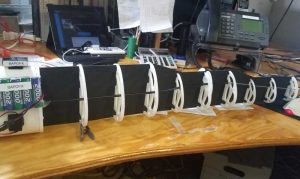 Todd continues to experiment with ways to implement 3D printing in his work and enjoys the process of learning new printing skills along the way. Recently, he has focused his 3D printing efforts on animatronics for the stage, including one of his latest projects, a lightweight, articulating dragon tail for the half-dragon, half-human character in a children's theatre production of Sleeping Beauty. Thanks to the time saving benefits, 3D printing has become a regular tool in Todd's special effects design workflow, and he is excited to find more ways to use it going forward.